Overview
MetaStock XVI is now released! It packs in more power, more flexibility, significantly improved explorers, new trading systems…..and more of what YOU need to make your best, most profitable trades.
MetaStock RT is specifically designed for traders and investors who prefer to use intra-day / live market data to analyze trends in real-time through the trading day. With 200+ indicators inbuilt and a multiplicity of renowned systems, you are truly empowered with a comprehensive tool kit that not just helps you analyze the market trend, but also enables you to scan for the trading setups of your choice via the inbuilt Explorer feature. Take it to the next level with the MetaStock Forecaster, which will analyze past market behavior and forecast a future cloud of projected price action.
Whether you're an experienced, active trader or just learning how to trade the markets, MetaStock helps you succeed. The software contains powerful analysis tools to help you make informed decisions about what to buy & sell and when to execute to make the most money possible. MetaStock comes with many out-of-the box trading solutions that are reliable and easy to use. And if you want to take your analysis to the next level, MetaStock gives you the ability to customize these solutions to your particular trading style.
Whether you trade stocks, bonds, mutual funds, futures, commodities, FOREX, or indices, MetaStock has the tools you need for superior market analysis and financial success. In fact, 84% of our customers report that they have been successful using the MetaStock software! Here is what one of our customers has to say about MetaStock:
"MetaStock is obviously made by people who understand traders' needs. It's a complete package that's easy to use, no matter what kind of securities you trade. It's the single tool that's allowed me to fine-tune my trading approach, pursue my avocation and build a satisfying retirement." - Michael Alakel
MetaStock 16 RT can be purchased for a onetime charge. Along with the software you must have / purchase a MetaStock XENITH data subscription to fire it with the best global market data in the industry (sourced from Thomson Reuters)
Benefits
MetaStock XVI RT offers many benefits to traders regardless of their experience level:
MetaStock includes the very popular RMO Trading System- developed by famed trader Rahul Mohindar, this new system has taken Asia by storm. The RMO model not only increases your trading accuracy but also significantly automates the analysis process, right up to marking signals and even detecting fresh trading opportunities that you can profit from NOW.
Fibonacci Projections- This unique line tool is based on the Fibonacci ratio principle. Using this, you could detect and mark key levels of support and resistance and at the same time set price targets to exit your trades better.
MetaStock helps you create a system for trading. A coach wouldn't trade his players or direct his team without a system in place to make the right decisions. Your approach to trading your portfolio should be the same-with a systematic, objective plan to make the best possible decisions. MetaStock helps you do this.
MetaStock removes the emotions from your trading-emotions of greed and fear. Spur-of-the moment decisions are not as reliable as decisions based on set criteria and reliable analysis. MetaStock gives you this-a trusted system so that you can objectively engage in buying and selling in the markets.
MetaStock is easy to use. Many of the software packages available today are so difficult to understand that it takes months to be up and running. MetaStock, however, is known for its intuitive interface, easy to use tools, and an exceptional built-in Help system.
MetaStock gives you confidence and an advantage over other traders in the marketplace. Success in the markets = profits, and 84% of our customers report that they have been successful in the markets using MetaStock software.
MetaStock can be trusted. Equis, the creators of MetaStock, has been creating powerful financial graphics & technical analysis software since the early 1980's and we currently have over 300,000 retail customers. Because of our elite position in the individual investor marketplace, Equis was acquired by Thomson Reuters-the world's premier information provider.
MetaStock is an integral part of the Reuters product line and is used by money managers & institutional traders across the globe. So with MetaStock, you have access to the same tools that financial professionals trust to make their trading decisions.
MetaStock offers excellent support tools-whether you prefer to call our free support line, chat with a rep over instant message, browse our FAQ's on the web, or visit our Forum, you'll find the answers to your questions quickly and conveniently.
MetaStock is customizable. To feel confident in your trades, you want a system based off of your own personal strategies, your tolerance for risk, the instruments that you trade, and your goals. So why would you ever use a software that's not flexible?
New Features
MetaStock 16 offers incredible new features: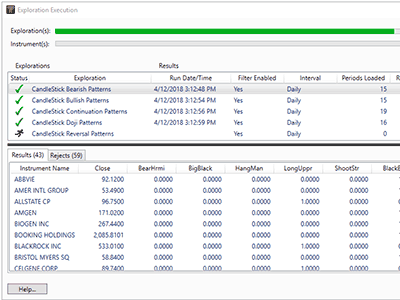 NEW - Improved MetaStock Explorer
The Explorer has been re-imagined with a more friendly interface to help you identify the information you need more quickly.
Instantly know the number of results and rejects while being able to see the name of your scan, runtime, and if they are using a filter, interval, and periods displayed on one screen.
Click "View Details" to quickly view your exploration overview and details.
View all exploration reports in one window rather than going through each one individually.
Double-click on any row in the exploration report and it will open your chart.
Leave the exploration report open and work with your charts at the same time.
View all past exploration results in one easy to access screen.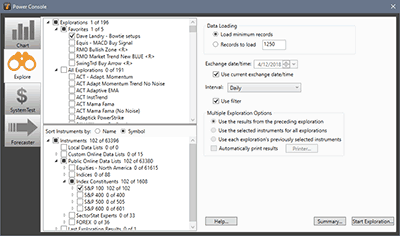 NEW - Favorites
Add ANY exploration or system test to your favorites. The favorites list is displayed at the top of the Exploration Window or Systems Test Window, making it easy for you to quickly access your preferred workflows. As an added bonus you can now view all results from only your favorite Explorations or all explorations.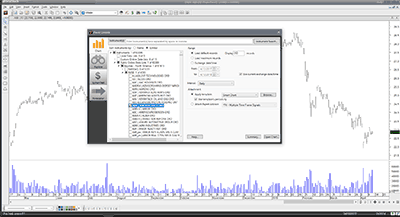 NEW - Improved Interface and Usability
One of the great features in MetaStock is the huge amount systems and securities available to you as a trader. It's important to get what you want when you need it. That's why we've included the following usability features in MetaStock XVI:
Most Recently Used Indicators List - See the 20 most recently used indicators on your indicator quick list – right at the top. This makes your most used indicators much easier to find and apply to your charts. Watch the video
Sort by Name or Symbol - Rank your symbols in the Power Console by "Name" or "Symbol." This makes finding the right symbol quicker and easier. Watch the video
Double Click to Open Charts - Simply double click on symbols in the Power Consol instrument list to open the Chart. Watch the video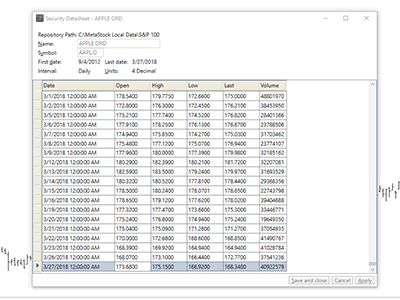 NEW Ways to Edit Local Data
There are now two ways to edit your local data (MS Local and CSV ). Edit your data in the downloader in the datasheet. If you prefer, edit local data directly from a chart in MetaStock by right-clicking on the price and choosing to edit data. This will bring up a datasheet right in MetaStock that you can use to edit the data.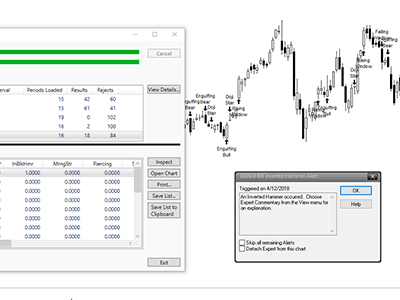 NEW Candle Pattern Scans
There are 5 new explorations based on CandleStick Patterns:
Candlestick Bearish Patterns - Identifies 6 Patterns
Candlestick Bullish Patterns - Identifies 6 Patterns
Candlestick Continuation Patterns - Identifies 3 Patterns
Candlestick Doji Patterns - Identifies 8 Patterns
Candlestick Reversal Patterns - Identifies 12 Patterns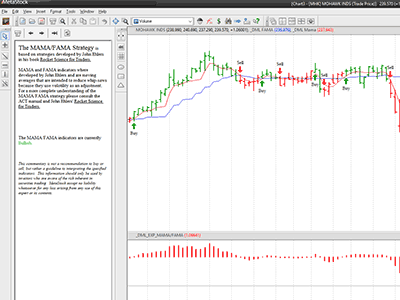 NEW Adaptive Cycle Toolkit
Formerly a separate add-on selling for $399, Adaptive Cycle Toolkit is now included in MetaStock XVI. ACT has two completely new sets of indicators and trading tools that harness the power of digital signal processing research of John Ehlers.
You now have a powerful new set of techniques that analyze the market in a fundamentally different way to create smooth AND responsive indicators, engineered to reduce whipsaws and catch trades earlier.
Over 50 new cutting-edge DLL Functions
Over 50 new MetaStock Indicators
6 New MetaStock Expert Advisors and Trading Systems
6 System Test
9 Templates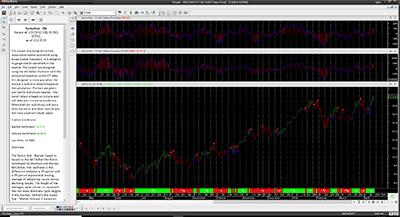 NEW Sector Stat Systems
Building on the success of the Sector Stat systems included in MetaStock 16, users will now have two new systems – Oil and Metal.
2 New Systems (Oil and Metal)
2 New Expert Advisors
2 New Templates
12 New Indicators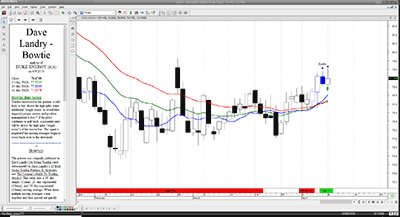 Dave Landry Systems
Dave Landry is well known among professionals as a no-nonsense trader. His approach to trend pattern identification is simple and allows you to find both long and short-term opportunities. We were so impressed with his systems, we included his favorites in MetaStock XVI.
7 New Explorations

Bowtie Setups
Daylight Pullback Setups
First Kiss After Daylight
Generic Pullback
Kiss MA Goodbye Setups
Pre Filter
Trend Knockout
6 Expert Advisors

Bowtie Setups
Daylight Pullback Setups
First Kiss After Daylight
Generic Pullback
Kiss MA Goodbye Setups
Trend Knockout
6 Templates

Bowtie Setups
Daylight Pullback Setups
First Kiss After Daylight
Generic Pullback
Kiss MA Goodbye Setups
Trend Knockout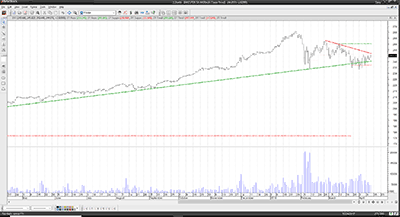 NEW - Dynamic Trading Tools Template
The Dynamic Trading Tools Template takes the popular Dynamic Trading Tools indicators already included in MetaStock and puts them into an easy to use Template. This template will automatically draw support and resistance lines along with trend-lines.
Basic Charting
MetaStock Sets the Standard in Charting
No other software in the market gives you sharper, more revealing charts than MetaStock. MetaStock gives you nine of the most widely-used price charting styles:
Bars

Line

Candlesticks

Point & Figure

Kagi

Renko

Three-Line Break

Equivolume

Candlevolume
Page Layouts help you save time and stay organized. Save all of your on-screen charts together like pages in a book. So whenever you open your layout, the same securities appear.
Templates also save you time by applying the same set of indicators and studies to different securities. Rotate through different securities while keeping the same indicators and line studies on the screen.
Built-in toolbars let you easily refresh stocks, change periodicity, rescale the Y Axis, zoom in & out, choose "previous" or "next security" in the open folder, and choose a security to open.
The Object Oriented Interface allows you to click on an object and get an instant menu for that item. MetaStock is the only technical analysis program with a complete Object Oriented Interface. The Click and Pick/Drag and Drop features let you drag price plots, indicators, text, and lines from one chart to another.
MetaStock Power Tools
The Explorer™ - Scan the Markets to Find Winning Securities
Finding profitable trading opportunities starts with scanning the markets for securities that meet your criteria. With how vast the markets are, this is an overwhelming and next to impossible task on your own. However, MetaStock's built-in search tool, The Explorer, makes it quick and simple.
Tell The Explorer what you're looking for-say you want stocks that have just crossed above their 200 day moving average. The Explorer searches thousands of securities to instantly find those that match this description. You could then run The Explorer again to drill down further in this list and find securities that match whatever specific criteria you're looking for.
You can also use The Explorer to generate a list of potential money-makers, find the biggest gainers, the most active stocks, or generate daily buy and sell signals.
The Explorer does the tedious, time-consuming work for you so that you can make informed decisions quickly and with little effort.
The Expert Advisor™ - Consult the Experts
The Expert Advisor is an educational tool that helps you interpret technical analysis signals. This compilation of trading styles and rules from experts such as Martin Pring, Gilbert Raff, and Bill Williams offers commentaries and suggestions as to when to buy or sell a security. This tool gives you 60 "experts" to apply to your trading.
The Expert Advisor brings you advice from a team of experts so that you can find out what they would do in your specific trading situation.
The Enhanced System Tester™ - Test Your Trading Ideas
With The Enhanced System Tester, create, back-test, compare, and perfect your strategies before you risk any of your money in the markets. System testing helps answer the question, "If I had traded this security using these trading rules, how much money would I have made or lost?" The surest way to increase your confidence in a trading system is to test it historically. The Enhanced System Tester lets you take a group of stocks and compare them to a group of trading systems to find the best scenario.
Designed to simulate real trading scenarios, the Enhanced System Tester allows you to change variables such as entry, exit, order sizes, commissions and more. This tool gives you incredible customization, comprehensive results, and detailed reports so that you can find the most historically successful trading scenario.
The Enhanced System Tester gives you the power to take huge amounts of past data and use it to analyze and predict what trading systems will be the most profitable.
MetaStock's Indicators and Trading Systems
MetaStock's Indicators
Analyze the market with the insight of the most respected traders in history with MetaStock's comprehensive collection of indicators and line studies-over 200 are included. MetaStock's built-in indicator interpretations even help you understand how to trade each indicator. For advanced users, The Indicator Builder lets you write your own indicators.
The Performance Systems
Trade at a higher level of confidence and expertise than you ever thought possible with the 26 trading systems included in MetaStock. Chosen after countless of hours of intensive testing and rigorous research, these systems have a highly successful track record of profitable results.
We added state-of-the-art exploration tools to 10 of these systems. These explorations perform system testing - on not just one security - but over an entire base of securities. Plus, you'll get buy/hold vs. buy/sell comparisons, and buy/sell alerts to further assure your trade has the highest probability of success.
"Systematic trading has dramatically improved my returns and drawdowns. I'm easily beating the indexes and not taking an inordinate amount of risk. Prior to MetaStock I tried one trading concept after another, and was essentially break-even - not without many gut wrenching moments though. Trading is now objective and simple for me. I just follow the signals, and through extensive back-testing, I have confidence that my system will be highly profitable in the future." - Kevin Campbell
MetaStock 16 also includes renowned features like the RMO, LCI & Forecaster
Minimum System Requirements
Operating System - Windows 7 and higher
Processor - Intel Core i3 or higher
Video - Video card and monitor supporting at least 32-bit color at 1024x768 or higher
Internet Connection - Broadband / High-speed Internet connection